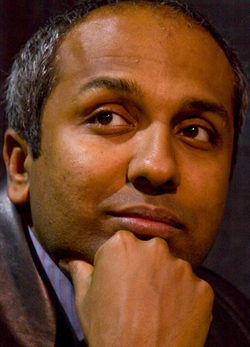 Social Media and Voices in the Margins
The 6th Annual Social Media Technology Conference & Workshop is a two-day intensive conference combining panel discussions, posters sessions and hands-on workshops designed to enlighten attendees about new scholarship, professional practices and pedagogical approaches to teaching.
This year's theme focuses on dissecting how power and difference force or provide an opportunity for social media to be used by those who may be considered marginalized in U.S. society or within other countries. The goal is to bring scholars and professionals together to share their perspectives on how social media are utilized by various individuals, groups, cultures or organizations to bring their voice, influence and impact on societies.
This year, Sree Sreenivisan, chief digital officer at the Metropolitan Museum of Art and a technology journalist based in New York City, will lead a Social Media Master Class on Friday, Oct. 7.
Past speakers have included digital cinematographer Chuck Sterin, Jan Shaffer, executive director of the J-Lab at American University, Bowie State Professor Allissa Richardson, an expert in mobile journalism, New York Times correspondent Ron Nixon, Dr. Craig Saper of University of Maryland, Baltimore and Dr. Meredith Clark, an expert in Black Twitter.
WHEN

WHERE

Howard University – Howard University Interdisciplinary Research Center 2201 Georgia Ave., NW, Washington, DC 20059 – View Map
Speakers
Mark Luckie, Head of Journalism and Media for Reddit
Mark S. Luckie is a career journalist and author of The Digital Journalist's Handbook and DO U., his newest novel. Mark has led digital initiatives for the Washington Post, the Center for Investigative Reporting, The L.A. Times and Entertainment Weekly and is the former Manager of Journalism and News at Twitter. Mark is a GLAAD Media Award nominee and a part of the 2012 Pulitzer Prize finalist team for Local Reporting. He was named by The Root as one of the most influential African-Americans of 2013 and 2014. Mark is a graduate of Bethune-Cookman University and the University of California, Berkeley where he received his master's degree in journalism.
Michelle Johnson
Michelle Johnson is an Associate Professor of the Practice, Multimedia/Online Journalism, at Boston University, where she has taught full time since 2009. In addition to teaching, Johnson oversees the award-winning Boston University News Service, a showcase for work produced BU Journalism students. In 2014 BU News Service was named top online student news site by both the Associated Press, Massachusetts/Rhode Island, and the Society of Professional Journalists, Region I.
BU News Service coverage of the Boston Marathon bombing was nationally recognized by the Online News Association with awards in both student and professional categories in 2013.
In 2015, Johnson was chosen to be among the first cohort of professional journalists and journalism educators who have been certified to train journalists in how to use Google tools. The program is a collaboration between the Poynter Institute, Google and the Society of Professional Journalists.
Johnson was named 2013 Educator of the Year by the National Association of Black Journalists. In 2012 she was the recipient of the Barry Bingham Fellowship, presented by the Association of Opinion Journalists for her work encouraging students of color to pursue journalism as a career.
Prior to teaching multimedia journalism at BU, she lectured in the journalism department at Emerson College as a Journalist in Residence and also spent several years there as technology manager, assisting in the renovation of the department into a multi-million dollar, cross-platform facility.
A former Boston Globe editor, Johnson was part of the team that launched the Globe's regional web site, boston.com. Prior to moving into new media, she was an editor for the print edition of the Globe. She has extensive experience writing and editing for both print and online.