Howard University – Howard University Interdisciplinary Research Center 2201 Georgia Ave., NW, Washington, DC 20059 – View Map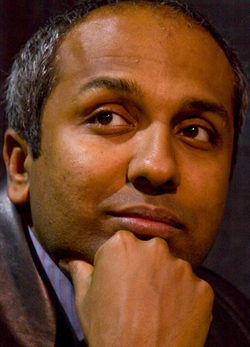 Sree Sreenivasan
Sree Sreenivasan is the Chief Digital Officer for the City of New York, where he works to promote access to City government through technology and support the city's tech ecosystem.
Prior to his work at City Hall, Sreenivasan served for three years as the first Chief Digital Officer at the Metropolitan Museum of Art, where he led a 70-person team to increase the museum's digital presence. In October 2015, he was appointed by Mayor de Blasio to the Commission on Public Information and Communication (COPIC), where he worked to increase access to, and education about, City information online. Before his work at the Met, he spent 20 years as a member of faculty of the Columbia Journalism School and a year as Columbia University's first Chief Digital Officer. He was a founding member and contributing editor at neighborhood news site DNAinfo, and throughout his career, he has written for various publications, including the New York Times, and was a popular technology reporter on WABC-TV, WNBC-TV and WCBS-TV.
An immigrant from India, Sreenivasan was born in Japan and lived in Bhutan, the former Soviet Union, New York City, Myanmar, India and Fiji before receiving a Bachelor's degree in History from St. Stephen's College in Delhi and receiving a Master's degree in Journalism from Columbia University in 1993. He is a proud graduate of P.S. 6 in Manhattan and also attended St. Joseph's of Yorkville.
Mark Luckie
Mark Luckie, Head of Journalism and Media for Reddit
Luckie is a career journalist and author of The Digital Journalist's Handbook and DO U., his newest novel. Mark has led digital initiatives for the Washington Post, the Center for Investigative Reporting, The L.A. Times and Entertainment Weekly and is the former Manager of Journalism and News at Twitter. Mark is a GLAAD Media Award nominee and a part of the 2012 Pulitzer Prize finalist team for Local Reporting. He was named by The Root as one of the most influential African-Americans of 2013 and 2014. Mark is a graduate of Bethune-Cookman University and the University of California, Berkeley where he received his master's degree in journalism.
Michelle Johnson
Michelle Johnson is an Associate Professor of the Practice, Multimedia/Online Journalism, at Boston University, where she has taught full time since 2009. In addition to teaching, Johnson oversees the award-winning Boston University News Service, a showcase for work produced BU Journalism students. In 2014 BU News Service was named top online student news site by both the Associated Press, Massachusetts/Rhode Island, and the Society of Professional Journalists, Region I.
BU News Service coverage of the Boston Marathon bombing was nationally recognized by the Online News Association with awards in both student and professional categories in 2013.
In 2015, Johnson was chosen to be among the first cohort of professional journalists and journalism educators who have been certified to train journalists in how to use Google tools. The program is a collaboration between the Poynter Institute, Google and the Society of Professional Journalists.
Johnson was named 2013 Educator of the Year by the National Association of Black Journalists. In 2012 she was the recipient of the Barry Bingham Fellowship, presented by the Association of Opinion Journalists for her work encouraging students of color to pursue journalism as a career.
Prior to teaching multimedia journalism at BU, she lectured in the journalism department at Emerson College as a Journalist in Residence and also spent several years there as technology manager, assisting in the renovation of the department into a multi-million dollar, cross-platform facility.
A former Boston Globe editor, Johnson was part of the team that launched the Globe's regional web site, boston.com. Prior to moving into new media, she was an editor for the print edition of the Globe. She has extensive experience writing and editing for both print and online.
WHEN: 
WHERE: Howard University – Howard University Interdisciplinary Research Center 2201 Georgia Ave., NW, Washington, DC 20059 – View Map